Mini Dome CCTV Camera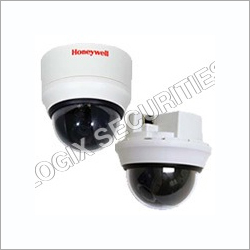 Mini Dome CCTV Camera
Product Description
We are one of the leading firms, indulge in manufacturing, supplying and exporting a wide range of Mini Dome Cameras. All the cameras are available in different sizes, shapes, designs and models at most competitive prices to fulfill the demands and needs of customers. These cameras are designed as per industry standards, utilizing premium quality components and other material to ensure flawlessness. We also pack our Mini Dome Cameras using quality packaging material to assure safety during transit.
Mini Dome Cameras

We offer True Day/Night indoor fixed mini-dome cameras engineered to provide extremely crisp images at minimal bandwidth. The Logix Honeywell HD3MDIP provides 720p resolution at full frame rate. Progressive scan technology and 2D edge enhancement provide outstanding clarity and definition. Digital Noise Reduction results in significant storage savings without sacrificing image quality in low light.

The compact, one piece design provides fast and easy installation in any application. The camera comes complete with surface and flush mounting options (compatible with a 4S electrical box) and an optional wall/pendant mount kit is available.
In addition to the low light color performance, the camera will automatically switch to black and white. In this mode, lighting can be complemented with infrared for discreet/covert low light surveillance with exceptional monochrome images.
A powerful and intuitive web client allows fine tuning of the camera and the auto iris levels. This can also be performed from most DVR/NVR setup utilities.
The HD3MDIP supports dual video streams and multiple compression formats with rates up to 30 frames per second (25 fps for PAL systems). The digital compression parameters for the two video streams are independently configurable. A third analog stream can be utilized for failover and local viewing, and is also valuable when retrofitting onto an existing analog input DVR or encoder (full resolution not available).
With built-in low current Power over Ethernet (IEEE 802.3af), Class 1, power is supplied to the camera using standard network cabling, eliminating the need for a separate power supply and associated wiring. In retrofit situations where PoE switching does not exist, the unit can also be powered directly from 24 VAC.
Market Opportunities
Logix Honeywell HD3MDIP is perfect for installations where excellent picture clarity at minimal bandwidth is required. At three times the resolution of standard analog cameras, yet with similar bandwidth requirements, HD3MDIP can be retrofitted on many existing DVR/NVR installations without requiring additional storage.
Features
Outstanding image quality, 720p (1280 X 720) resolution

30 fps (25 fps PAL) progressive scan

True Day/Night, 3.3-12 mm VFAI lens with removable IR cut filter

Camera tamper detection

Video motion detection

Wall/pendant mount kit available

Selectable compression formats

Dual digital video streams simultaneously, independently configurable

Remote firmware update

Supports both dynamic and static IP address assignment

Single model for surface mount and recessed ceiling applications, 4S adapter plate also supplied

Includes advanced IP locator software to make system setup easy

Web server for remote setup of camera video and network parameters

Choice of 24 VAC or PoE IEEE 802.3af class 1 power inputs

Supports input and output alarm contacts

Supports bidirectional audio

Part No. Description

Logix Honeywell HD3MDIP

Network True Day/Night, Progressive Scan, CMOS, 720p Resolution Camera, 3.3-12 mm VFAI, 24 VAC or PoE IEEE 802.3af, NTSC

Logix Honeywell HD3MDIPX

Network True Day/Night, Progressive Scan, CMOS, 720p Resolution Camera, 3.3-12 mm VFAI, 24 VAC or PoE IEEE 802.3af, PAL






Contact Us
A-374, Chattarpur Enclave, Phase 1, New Delhi, Delhi, 110074, India
Phone :09216345677