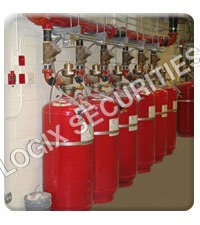 FM 200 Fire Suppression System
Product Description
FM-200 Fire Suppression System

Honeywell FM-200 Fire Suppression System offers defense and safeguard which equals to that of Halon 1301. It quickly turns off fires from beginning to end with the help of a amalgamation of both chemical and physical methods. The bare minimum design concentration of FM - 200 Fire Suppression System is almost 7% by capacity, in comparison with the 5% for Halon 1301. This indicates that no more than 70% more agents by mass is essentially needed as compared to a typical Halon 1301 system. Also the need for extra storage room needs and requirements are minimal. There is no requirement to litter and mess around with a facility with large and heavy racks of bulky, highest pressure cylinders. These high pressure cylinders are classified as those which are utilized in inert gas systems.

The rigid and preset FM - 200 (HFC-227ea) fire turn off or dousing system is designed, engineered, inaugurated and commissioned in agreement with the most recent version of National Fire Protection Association Standard NFPA 2001, (standard on Clean Agent Fire Extinguishing Systems)

FM-200 is pile up as liquid in faultless steel containers and extremely pressurized with nitrogen to 360 / 600 psig (25 / 42 Bar) to add details to and augment and boost its discharge flow qualities.

Today there are an assortment of and various types of Automatic Fire Suppression Systems. These Systems are available in extensive forms and also in a varied choice of applications. In general, however, the Automatic Fire Suppression Systems comes under 2 main categories. These are either engineered or designed and are the pre engineered systems.

By definition, an automatic fire suppression system can perform or run without any human intervention or interference. To ensure that it runs without any involvement and to do so it must attain a way through with which the flaws can be detected actuation and delivery.

In a varied assortment of systems available, the detection process is attained by mechanical or electrical means. Mechanical detection makes use of fusible - link or thermo - bulb detectors. These detectors are created and engineered to separate at a precise temperature and discard tension on a release mechanism. Electrical detection makes use of heat detectors which is integrated with self - restoring, generally - open contacts which close when the already determined pre set temperature level is achieved.

Far off and local manual operation is also feasible.

The Delivery part is taken care of by the effective usage of piping and nozzles. The Nozzle designs are precise to the agent used and coverage desired. This agent is nonetheless but FM 200.

Principle of Fire Suppression:

A complete flooding system that help douses off the fire by minimizing the oxygen level or performs chemical Reaction in an enclosure or closed room with the help of inert or clear agent gases.

The system comprises of alarm detection devices, Agent or Gas cylinder, and Mechanical Piping and solenoid actuator device.

System Application

Where an occupancy / room that has high value items, non retrievable data, artifacts collection, records, continuous or regular operation and many more.

Most advisable for CLASS C "Electrical Fire" that would create regular water sprinkler risky to incorporate. It is also applicable for Class A and B.
Applications:

Electronics, medical equipment, production equipment, libraries, data centers, medical record rooms, server rooms, oil pumping stations, engine compartments, telecommunications rooms, switch rooms, engine and machinery spaces, pump rooms, control rooms
Trade Information
Cheque, Telegraphic Transfer (T/T)

As per requirement
Asia, Australia, Central America, North America, South America, Eastern Europe, Western Europe, Middle East, Africa

All India
Contact Us
A-374, Chattarpur Enclave, Phase 1, New Delhi, Delhi, 110074, India
Phone :+918045800726