Dome Security Cameras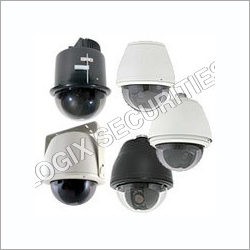 Dome Security Cameras
Product Description
Backed by our vast infrastructure facility, we are capable of manufacturing, supplying and exporting a comprehensive range of Dome Security Cameras. These cameras are designed in compliance with international quality norms, using superior quality components and other basic material. All our offered Dome Security Cameras are widely acclaimed by the customers for their excellent performance, easy installation, low maintenance and longer functional life.

Dome Security Cameras
Dome Security Cameras Series is an array of IP-based products that have an open architecture platform and utilize a single Application Program Interface (API). The API allows for a common user experience and integration with hybrid Digital Video Recorders (DVRs) and Network Video Recorders (NVRs).
Logix Honeywell IP PTZ dome offers the latest in digital video surveillance. Logix Honeywell ACUIX IP is the combination of world-class video and leading-edge IP networking technologies to provide streaming MPEG-4 images in 4CIF, 2CIF, and CIF resolutions with rates up to 30 frames per second (25 fps for PAL systems).
The Logix Honeywell ACUIX IP PTZ dome offers multiple housings and high-resolution, auto-focus cameras for virtually any application. The color camera is available with an 18X zoom lens with 470 TVL (460 TVL PAL) of resolution. The Wide Dynamic Range (WDR) and True Day/Night (TDN) models feature 18X, 26X and 35X zoom lenses with up to 540 TVL (530 TVL PAL) of resolution. The 35X model also includes electronic stabilization for improved image quality in unstable mounting situations.
Logix Honeywell ACUIX IP uses Honeywell technology for camera sabotage detection, field upgradable firmware and backup of all camera settings. Camera sabotage detection notifies the user when a camera has been blinded or vandalized, ensuring the integrity of the video and alerting the user to a live event or system problem disrupting the video stream. Logix Honeywell's technology also allows users to remotely upload firmware to all domes and permits secure storage of all camera settings such as labels, presets, tours and privacy zones.
Market Opportunities
The combination of the latest in digital technology, advanced video processing and aesthetically pleasing design makes the Logix Honeywell ACUIX IP ideally suited for large retailers, airports, government installations, schools and campuses, industrial environments, and anywhere detailed surveillance is essential.
Features
MPEG-4 compression

4CIF, 2CIF, and CIF resolutions

Up to 30/25 frames per second

Camera Sabotage Detection

Field upgradable firmware

Backup of all camera settings

4 dry contact inputs

Up to 150 user-defined presets

16 preset tours of 64 presets each

32 Dynamic Privacy Zones

Password protection prevents unauthorized users from altering system settings

Built-in surge and lightning protection

Menus are provided for English, French, German, Dutch, Italian, Polish, and Spanish
Contact Us
A-374, Chattarpur Enclave, Phase 1, New Delhi, Delhi, 110074, India
Phone :09216345677